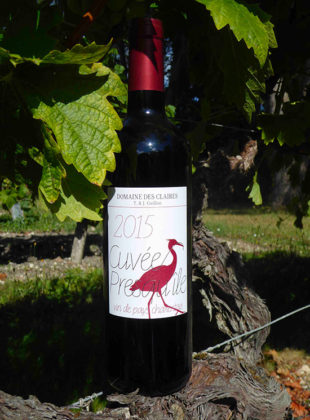 2016 vintage - A powerful and elegant wine, mature in oak barrel
Grape variety :
75% Merlot
Grape variety originate from Bordeaux aera, adapted to the Charentes climate, it brings fineses, roundness and aromatic richness
15% Cabernet Franc N
One of the oldest red grape variety from Bordeaux and Loire, it brings complexity and vivacity
5% Cabernet Sauvignon N
Well-known grape variety from Medoc, it brings strong and delicate tannins
Tasting
To the eye: Dark ruby with purple shades.
To the nose: Complex and powerful, revealing dark fruit and spicy aromas. Menthol and vanilla hints refresh the whole.
In the mouth: Round and structured, with delicate and elegant tannins and a great aromatic persistance.
About technics
Chalky and clay soils, well-ripened grapes, de-stemming and crushing, 12 days fermentation on the skin with pumping-over and release, barrel in January and aging during 12 month in one year old cask.
Our tips…
A red wine to drink between 16 and 18°C. Decant it to reveal all his potential.
Pair it with red meat, game and cheese. Try it also with a prime rib of beef!
You could appreciate it now or preserve it 3 or 5 years.