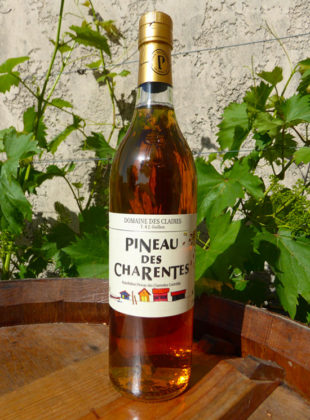 Traditional fortified wine from Charentes,
Pineau will charm you!
Pair it with your appetizers and desserts! 
Grape variety :
90% Ugni-Blanc, 10% Sauvignon (Grape juice)
100% Ugni-Blanc (Eau-de-vie for blending)
Tasting
To the eye: Pale gold colour
To the nose: Almond, pear and honey's elegant aromas.
In the mouth: Ample and generous. A balance between sweetness and acidity.
About technics
Grapes are produced with old vines, on poor sandy soils. Vine strength is reduced to obtain the better ripening of  healthy grapes. Low fining. Mutage made with 1/4 of Cognac eau-de-vie.
Aged at least 24 month in 400L oak barrels.
Our tips…
Serve it fresh as an aperitif. It is also excellent with melon, blue cheese and desserts such as  fruit pie.
Thanks to Cognac eau-de-vie you can keep it several years.
Store it stand !